Detil
Product Overview
The X2P is a special design call center IP phone which offers high C/P Ratio and Professional Design, provides unique foot to answer the phone. The quite intentional choice of high-quality materials, combined with a generously large 2.8 inch 320x240 color LCD that guarantees both a smoother user experience and easier access to much more visual information at a glance. Dual 10/100 Mbps network ports with integrated PoE are ideal for extended network use. The X2P supports 2 lines and plus SRTP/HTTPS/TLS, VLAN and QoS. It includes RJ9 and 3.5mm port and EHS headset use and supervision, has been designed very specifically for improving the efficiency of call center service.
Fanvil X2P Key Features
2.8 inch (320 x 240) colour LCD screen
Support use the phone for the foot pedal (Pedal switch for off-hook/on-hook call control)
LED buttons for mute/hold and auto answer
Supports RJ9 and 3.5mm headset port
Succinct button design, matching used in call center
The button Support the lights
Supports EHS wireless headphone Compatible with all major platforms: 3CX, Broadsoft, Elastix, Asterisk, Xorcom, etc.
PoE Enable
2.8 Inch Main Colour Screen

The X2P combines a friendly UI with an attractive color screen to improve your user experience.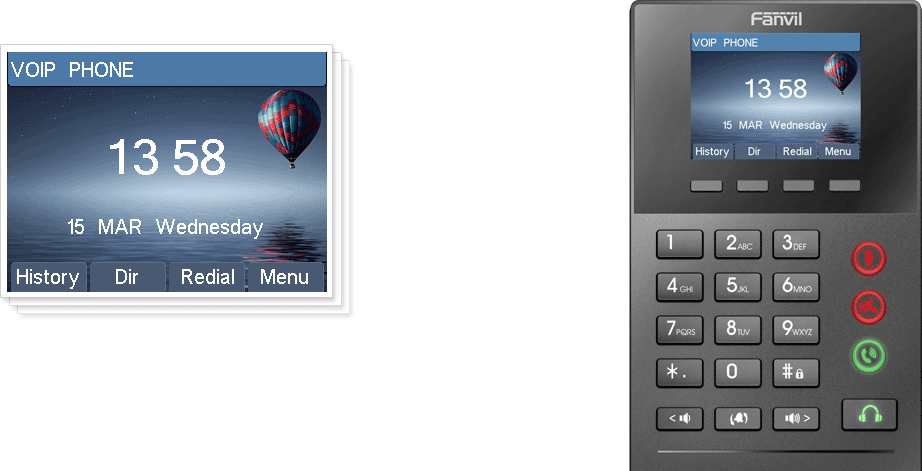 Fully Compatible

The X2P is fully compatible with all major platforms: 3CX, Broadsoft, Elastix, Asterisk, Xorcom, etc.

Fanvil X2P - Technical Specifications
Generic
2 SIP line
HD voice
PoE enabled or optional external power supply
2.8" colour screen
Headphone (HP) mode (EHS support for Plantronics headsets)
Environmentally friendly packaging
Industrial standard certifications: CE/FCC
Call Features
Call out / answer / reject
Mute / unmute (microphone)
Call hold / resume
Call waiting
Intercom
Caller ID display
Call forwarding (always / busy / no answer)
Call transfer (attended / unattended)
Call parking / pick-up (depending on server)
Redial / auto-redial
Do-not-disturb (DND)
Auto-answering
Voice message (on server)
Local 3-way conference
Hot line
Hot-desking
Phone Features
Phonebook (500 entries)
Remote phonebook (XML / LDAP)
Call log (100 entries, in / out / missed)
Black / white list call filtering
Voice Message Waiting Indication (VMWI)
Programmable soft keys
Network time synchronisation
Action URL / active URI
Multi-language support in screen and web UI: English, Chinese (Traditional/Simplified), Japanese, Russian, Italian, Turkish, Germany, Dutch, Spanish, Hebrew, Polish, French etc.
Audio
Wideband ADC / DAC 16KHz sampling
Narrowband CODEC: G.711a/u, G.723.1, G.726-32K, G.729AB
Wideband CODEC: G.722
Voice Activity Detection (VAD) / Comfort Noise Generation (CNG) / Background Noise Estimation (BNE) / Noise Reduction (NR)
Packet Loss Concealment (PLC)
Dynamic adaptive jitter buffer up to 300ms
DTMF: In-band, uut-of-Band – DTMF-Relay (RFC2833) / SIP INFO
Networking
10/100Mbps Ethernet, dual bridged port for PC bypass
IP configuration: Static / DHCP / PPPoE
Network access control: 802.1x
VPN: L2TP (basic unencrypted) / openVPN
VLAN
QoS
Protocols
SIP2.0 over UDP/TCP/TLS
RTP/RTCP/SRTP
STUN
DHCP
PPPoE
802.1x
L2TP (Basic Unencrypted)
OpenVPN
SNTP
FTP/TFTP
HTTP/HTTPS
TR069
RFCs:
354/1321/1350/1769/1889/1890/2131/2132/2616/2617/2661/2833/2976/32
61/3262/3263/3264/3265/3268/3311/3489/3711/4346/4566/5630/5865
Deployment & Maintenance
Auto-provisioning via FTP/TFTP/HTTP/HTTPS/DHCP OPT66/SIP PNP/TR069
Web management portal
Web-based packet-dump
Configuration export / import
Phonebook import / export
Firmware upgrade
syslog
Physical Specifications
LCD: 2.8 inch (320x240) colour screen
Keypad: 23 keys, including
-4 soft keys
-3 function keys
-12 standard phone digits keys
-2 volume control keys, lower / increase (left / right)
-1 volume select key, (down)
-1 headset key
1.5M CAT5 Ethernet cable x1
3.5mm port x2: headset x1, foot pedal x1
RJ9 port x2: headset x1, monitor earphone x1
RJ45 Ethernet port x2: network x1 (802.3AF POE class 1 enabled)
PC x1 (bridged to network)
Main chipset: broadcom
DC power input: 5V / 0.6A
Power consumption: idle – 0.9~1.6W, peak – 1.6~2.5W
Working temperature: 0~40℃
Working humidity: 10~65%
Back rack x1: desktop stand
Colour: black
Gift box dimensions: 197x110x62mm (L x W x H)
Outer CTN dimensions: 455x340x220mm (20 PCS)